July 4, 2018
Posted by:

BBLTranslation

Category:

Article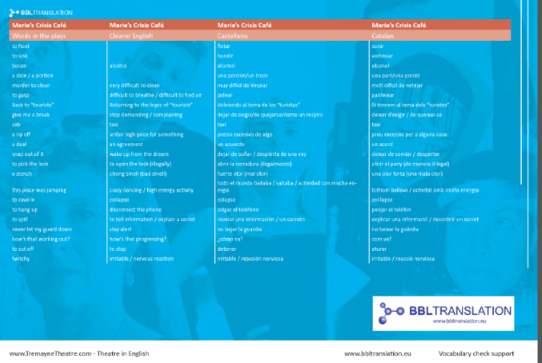 For the second time this year, BBLTranslation, a trailblazing translation company in Barcelona, delivers linguistic support for theatre in English to raise funds for the women's collective AADAS.
Tremayne Theatre Company (TTC) is staging two new plays in English by Georgina Tremayne. The two plays in one show are on 5th and 6th December at Tinta Roja in Barcelona.
BBLTranslation provided a multilingual glossary in English, Spanish, and Catalan using the dialogue from the two plays. The glossary is downloadable for free from: TTC. It helps non-native English speakers experience English language phrases in the context of a play – and native English speakers can check the Spanish and Catalan equivalent, so all language learners benefit. It's a dynamic, innovative way for adults to enjoy theatre and – as a by-product – learn languages for free!
BBLTranslation and TTC have together updated the concept of traditional ways to experience English in Barcelona, Spanish in Spain and Catalan in Catalonia.
In March 2014, BBLTranslation and TTC raised 1200 euros for AADAS through a three-day theatre production of original playwriting in English. AADAS works throughout the year to help women and children who have been subject to sexual abuse and violence.
Coming up in December, we are repeating the collaboration. Our goal is to sell all 180 tickets and raise 500 euros (25% of the show's box office) to boost funds for AADAS's vital work.
The two new plays in December are: "Desdemona And The 5:2 Diet" (12 minutes) – an exploration of fad diets, and the need to stop convincing oneself to follow ill-advised routes in life.
Desdemona leads directly into "Marie's Crisis Café" (55 minutes) which explores a range of emotions through drama, humour, loss, magic and hope. Not necessarily in that order!
Both plays share a mutual theme: "It's never too late to start again."
Tickets are available online maries.eventbrite.com.
But non-theatre lovers can donate direct too: CCC DONATIUS 3025 0005 85 1433235860 or stop by Tinta Roja from 19:30-20:30 on 5 and 6 December and donate in the donation box at the box office. Every cent helps make a difference towards Christmas 2014 in Barcelona.
*Tremayne Theatre Company (TTC) began life in New York City with a production of our first full-length play, the period thriller VERMILION WINE. It was produced again in Barcelona after moving here four years ago. Since then, TTC has written and produced three evenings of original one-act plays, "Six In The City", "Six In The City 2" and "Six In The City 3", a new full-length play "A Woman Of Many Parts" and ten one-act plays for MiniTeatres. In addition, TTC has produced and directed a dramatic staging of T.S. Eliot's "The Waste Land" and written and produced "Beauty", an original play for radio. All of TTC's plays have been highly popular with English-speaking audiences and have received critical acclaim from such publications as CULTURACA, BARCELONA METROPOLITAN, BARCELONA CONNECT and RELEVANT BCN. TTC is always happy to produce plays by new writers.