July 4, 2018
Posted by:

BBLTranslation

Categories:

Article, Uncategorized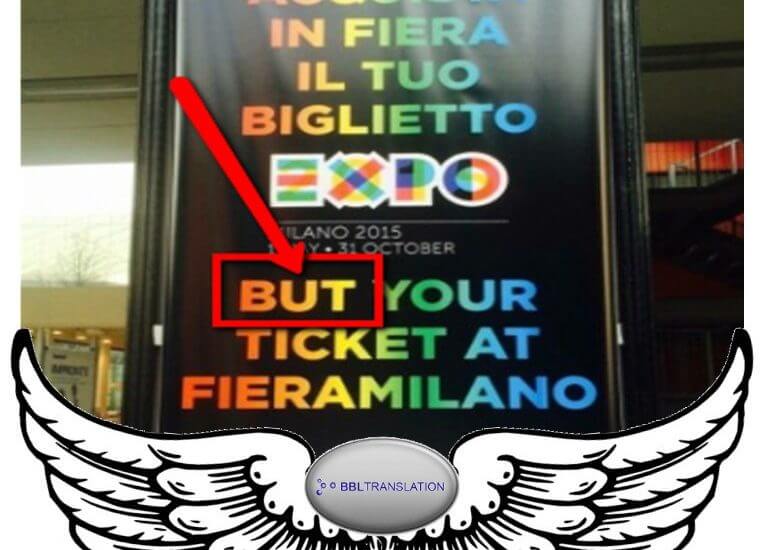 From Milan to China, BBLWings has been a saving grace to countless businesses and companies across the globe, and now you can get in on the action! As part of BBLTranslation's new contest you can send in pictures of the worst translation mistakes you see to be entered to win amazing prizes.

For years, BBLTranslation has been known as an innovative leader in the translation industry. Now, founder and CEO, Barbara Lavitola wants your help in spreading awareness for the importance of quality translations. A poor translation will not only obscure the desired message, but can also tarnish a company's reputation and validity.

From billboards to advertisements on the street, translation mistakes are everywhere. The BBLTranslation team is looking for the worst and most surprising blunder in order to shed light on the translation mishaps that surround us. If you see a mistake, just snap a picture, and visit www.bblwings.com to submit your entry. Photos must depict inaccuracies in English, Spanish, or Italian and should include the name of the established company. In order to view the complete set of rules for the contest, please visit the BBLWings contest website.

The panel of judges for the contest will be comprised of the BBL Translation team from the central office in Barcelona, Spain. If your photo is selected as the winner, you could win an incredible prize. Winners in Barcelona will score two tickets to an English language performance by the well-known Tremayne Theatre Company. Winners outside of Barcelona will receive two tickets to Expo Milano 2015, which are valid from May 1st to October 31st, 2015.

All you need is a camera in order to join us in our fight against faulty translations. For more information about the contest, please visit www.bblwings.com  or contact us at info@bbltranslation.eu. Together we can hold companies accountable for their translation mistakes. Where will BBLWings land next?

About BBLTranslation
BBLTranslation is a specialist boutique translation agency, founded to offer customized, high-standard linguistic consulting services to companies and individuals. We stand out from the crowd by offering a comprehensive customer care package to ensure the success of our clients' translations and multilingual corporate communications. Our team goes above and beyond to make sure the translations are not simply accurate, but impeccable. Translations are always done by a team member who is a native speaker in the language at hand. A good translation should be seamless, and should be treated with equal importance as the original language. At BBLTranslation, we promise quality, cost-effective translations every time.