July 4, 2018
Posted by:

BBLTranslation

Category:

Article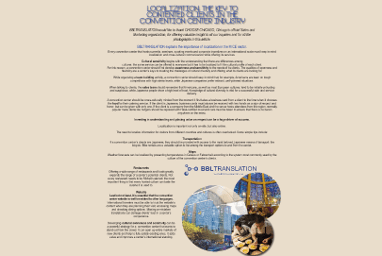 BBLTRANSLATION would like to thank CHOOSE CHICAGO, Chicago's official Sales and Marketing organization, for offering valuable insight to all our enquiries and all the photographs of this article.
BBLTRANSLATION explains the importance of localization in the MICE Sector.
Every convention center that hosts summits, seminars, sporting events and corporate incentives on an international scale must keep in mind localization and cross-cultural communication while offering its services.
Cultural sensitivity begins with the understanding that there are differences among cultures: the same service can be offered to everyone but it has to be localized to fit the cultural profile of each client.
For this reason, a convention center should first develop awareness and sensitivity to the needs of its clients. The qualities of openness and flexibility are a center's keys to meeting the challenges of cultural diversity and offering what its clients are looking for.
While organizing a team building activity, a convention center should keep in mind that, for example, Americans are keen on tough competitions with high stress levels, while Japanese companies prefer relaxed, well-planned situations.
When talking to clients, the sales team should remember that Americans, as well as most of European cultures, tend to be initially untrusting and suspicious, while Japanese people show a high level of trust. Knowledge of cultural diversity is vital for a successful sale and service delivery.
A convention center should be cross-culturally minded from the moment it first takes a business card from a client to the time when it chooses the food for their catering service. If the client is Japanese, business cards must always be received with two hands as a sign of respect and honor, but can be given with only one. If the client is a company from the Middle East and the venue hosts attendees from the region, normally popular menu items like burgers should be replaced with Halal-certified meat and care must be taken to ensure that there is no bacon anywhere on the menu.
Investing in understanding and placing value on respect can be a huge driver of success.
Localization is important not only on-site, but also online.
The need to localize information for visitors from different countries and cultures is often overlooked. Some simple tips include:
Transportation
If a convention center's clients are Japanese, they should be provided with access to the most beloved Japanese mean of transport: the bicycle. Bike rentals are a valuable option to list among the transport options to and from the center.
Maps
Weather forecasts can be localized by presenting temperatures in Celsius or Fahrenheit according to the system most commonly used by the culture of the convention center's clients.
Restaurants
Offering a wide range of restaurants and foods greatly expands the range of a center's potential clients. Not every restaurant needs to be Michelin-starred: the most important thing is that every hosted culture can taste the cuisine it is used to.
Last but not least, it is essential that the convention center website is well translated to other languages.
International travelers must be able to trust the website's content when they are planning their visit, accessing maps and checking dining options. Missing or mistaken translations can damage clients' trust in a center's competence.
Developing cultural awareness and sensitivity can be a powerful strategy for a convention center that wants to stand out of the crowd. It can open up entire markets of new clients and help to fully satisfy existing ones. It adds value and improves a center's international standing.