October 21, 2020
Posted by:

BBLTranslation

Category:

Sin categorizar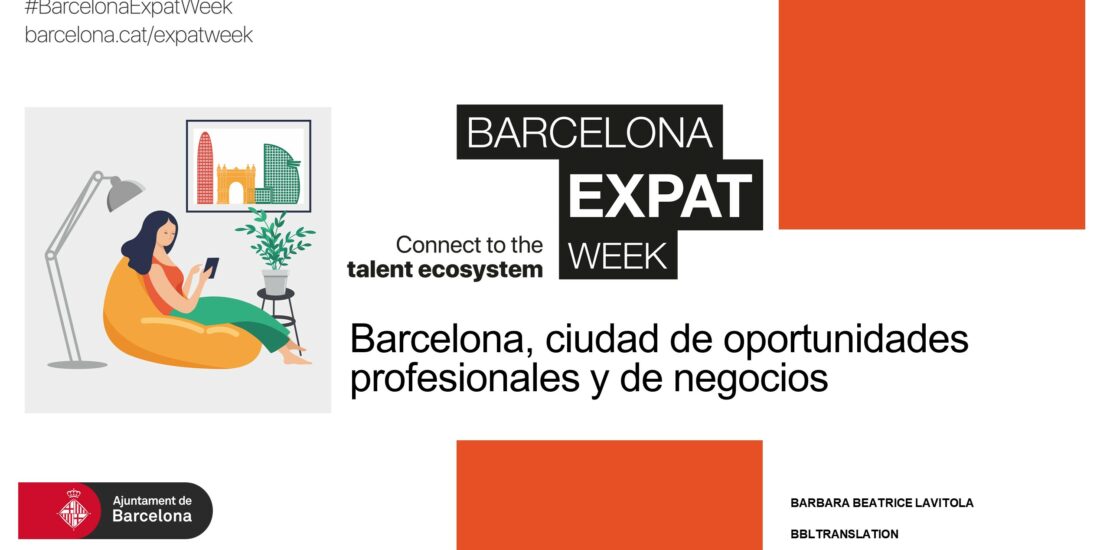 From 19 to 23 October 2020, Barcelona is organising Expat Week, a hybrid, face-to-face and online event, which offers workshops, webinars and 'meet & share' events to become the annual meeting point of international talent from the city.
The programme of activities, from Monday to Friday, is online: workshops, meet&share webinars. It will discuss one theme per day taking into account the current context generated by the global pandemic: personal landing, work and training, talent without borders, doing business and entrepreneurship and enjoying and participating in the city.
Barcelona Expat Week makes a step forwards in the grouping and highlighting of international talent, with respect to their predecessor, Barcelona International Community Day (BICD), as a fair address to the foreign community of Barcelona, with the aim of attracting talent and creating networks of relationships, services and businesses.
Through an innovative virtual platform to enhance contacts and share knowledge and participation of the city's international talent ecosystem, Barcelona Expat Week is organising 39 activities, with 88 speakers from 27 countries, the majority women, and 9 hosts who have established themselves professionally in Barcelona.
Meeting point of international talent and a showcase for the city
As the main objectives, this event aims to create a meeting point for the ecosystem of international talent and of the entire international community of Barcelona, at the same time maintaining the position of Barcelona as an open and welcoming city and to raise awareness of the community.
The event will feature the participation of experts, managers, professionals and various testimonies, and it will be open and free of charge upon registration on the platform that will create the virtual community at barcelona.cat/expatweek.
This year, in addition, nine people will work as hosts and visible faces of Barcelona Expat Week. They are people from different countries who have arrived in the city with different purposes and they have settled there. They can and they want to explain their experience of work and professional project, integration and coexistence in the city that is now their home.
Barbara Beatrice Lavitola speaker at Barcelona, city of professional and business opportunities
On Thursday 22 October at 4pm there is a talk on Barcelona, city of professional and business opportunities which will give advice to make the most of the business opportunities that the city can offer and will discuss the best way to integrate into the business ecosystem of Barcelona. One of the speakers of this event is Barbara Beatrice Lavitola, Managing Director at BBLTranslation, which is a boutique language service agency for companies and individuals who want no-mistakes-guaranteed translations to enhance their reputation.
BBLTranslation was set up in Barcelona over a decade ago and it is actually serving top companies based in Catalonia with multilingual translation and interpreting services.
Barbara Beatrice Lavitola emphasises that the cultural similarities between Barcelona and Milan, her native town, form a "natural bridge" that connects the two cities. The privileged location of Barcelona, which has a highly-renowned port and airport, makes the city extremely attractive for many professionals as well as an ever-increasing number of businesswomen.