July 3, 2018
Posted by:

BBLTranslation

Category:

Article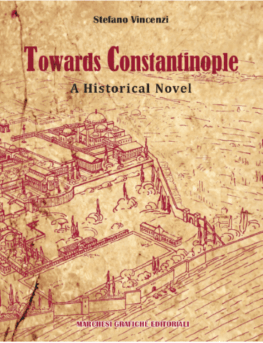 BBLTranslation was honoured to be assigned the English translation of Towards Constantinople by Stefano Vincenzi, a historical novel which has met considerable success and is currently in its third reprint in the Italian language (Marchesi Editore).
From financial documents to historical novel: How did BBLTranslation's journey back to 925 AD begin?
Vincenzi is Head of Institutional Relations at Mediobanca and Professor of Financial Market Law at the Faculty of Jurisprudence of the European University in Rome.
"When Professor Vincenzi contacted me, I thought it was about the legal-financial documents we sometimes translate for him," said BBLTranslation's Project Manager Barbara Beatrice Lavitola. "Instead, he surprised us by asking us to translate his historical novel, the result of more than 25 years of research in Italy, Russia and Turkey."
To write the book, Prof. Vincenzi had consulted libraries, historical archives, Scottish bookshops, and even the first book translated into Italian in 1586 by Filippo Pigafetta, Trattato brieve dello schierare in ordinanza gli eserciti et dell'apparecchiamento della guerra di Leone per grazia di Dio Imperatiore dalla Greca a nostra lingua (A brief treatise on the array of armies and preparation of war by Leo Emperor by the Grace of God translated into our language from the Greek).
His meticulous study led him to conclude that, 'History is written by the victors. The Romans of the East were defeated, but not crushed'.
"It was this distinction between defeated and crushed that piqued our interest and convinced us to accept the project," said Barbara.
What was BBLTranslation's greatest challenge in taking on the task?
The BBLTranslation team immediately understood the challenges involved in translating a book of over 400 pages, crammed with historical terminology and mutations in the evolution of the Byzantine army, into English.
It would require an extraordinary effort to make every passage engaging while at the same time choosing accurate terminology, mindful of the profound differences between the Italian and English languages.
Which resources did BBLTranslation use for the assignment?
Project manager Barbara 'enlisted' (just to stay in a military mood…) English translator Susie Carrington, who has a background in the movie industry and specializes in screenplays and historical novels, and freelance researcher Kyle Sinclair, PhD in Byzantine Studies at the University of Birmingham. Almost 8 months of uninterrupted teamwork, exchanges of opinions and suggestions to evaluate every word ensured that the style and nuances of the original text also shone through in the translated version.
What was the nicest surprise for BBLTranslation while working on the project?
Getting confirmation that translation is one of the oldest professions!
The book reveals that in Byzantine times, those who spoke another language 'the language of the infidels', were the ones who succeeded. One passage reads:
"Now would you please inform our guest that we are pleased to welcome him here and we hope that he brings words of friendship from his master."
The dark-eyed pirate bowed slightly, and before Thomas began to translate, he answered in fluent Greek.
"Thomas; you say you wish to be a free man again, and you claim to possess many skills and speak several languages. I trust, then, that you speak the language of the infidels?"
"Since the language of our enemies allows us to communicate directly, I wish to personally thank you for coming, having endured a difficult and perilous journey, and for bringing us the words of your master, together with this sword which I particularly appreciate."
What is the book about?
The hallmarks of Vicenzi's style are irony, sensuality and, of course, historical references.
The scar is not a problem; after all he is a soldier, not a dancer.
His novel catapults the reader from the battlefield to sumptuous purple bedchambers, along corridors smelling of incense and wine:
Her eyelids slowly closed as he unlaced her gown, while her bare breasts bloomed in his hands.
He stirs the reader's imagination with evocative descriptions:
"Inside those walls lies not just a city full of material treasures, most of which we could plunder elsewhere and much, perhaps, we don't even need, but a mysterious force that I call 'the soul of the world'."
Although the novel is set in the Eastern Roman Empire between 913 AD and 927 AD, Vincenzi touches upon a subject which is still topical: the endless struggle to safeguard the privacy and social independence of the individual. Parallels should probably not be drawn between Byzantine values and those of the independence movements of present day Europe, such as those in Scotland and Catalonia, but might perhaps be stretched as far as India where many women have had themselves publically executed for reasons of honour. Like the characters in the book, Indian women are confident that they can change their country and are striving to do so.
Towards Constantinople can be purchased on Amazon as an e-book for Kindle: http://www.amazon.it/Towards-Constantinople-English-Stefano-Vincenzi-ebook/dp/B00R7QED0I/ref=sr_1_1?ie=UTF8&qid=1419067038&sr=8-1&keywords=towards+constantinople
Happy reading!