July 3, 2018
Posted by:

BBLTranslation

Category:

Article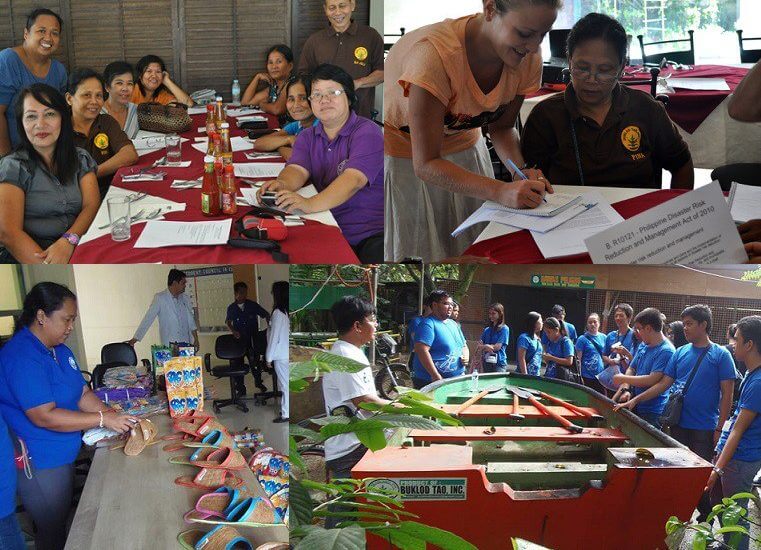 Interview with KaNoliAbinales from Buklod Tao Inc., Philippines.
When Typhoon Hagupit smashed into the Philippines in 2014 it made headlines around the world because of its intensity. Locally, however, it was known as Typhoon Ruby. How could one storm have two names? And who chose the names? When tropical cyclones – typhoons – move across the planet they are given names by independent agencies in each area. As a result there is no translation, just different names in different places.
We had the honour to discuss this and other topics with KaNoliAbinales, Founder and Adviser of the people's organisation Buklod Tao in Banaba, San Mateo, Philippines.
BBL: KaNoli, could you please tell us a bit about yourself?
KaNoli: In 1994, I started off organising six basic ecclesiastical communities under our parish in an area near my home. In 1996 we registered as Buklod Tao with the government's Securities and Exchange Commission as a self-organised, community-based organisation.
BBL: How many typhoons have you experienced in your life? Is it correct that the local names are Tagalog?
KaNoli: Since my childhood I have experienced more or less sixty typhoons. The last typhoon in the Philippines is known by a Tagalog word – 'hagupit', which means 'scourge'. The name is the International Code Name. The local code name is 'Ruby', which is a girl´s name.
BBL: What is the name for 'typhoon' in Tagalog, the official Filipino language, and where does it come from?
KaNoli: 'Typhoon' in Tagalog is 'bagyo' or 'unos'. There is also another term for typhoon in descriptive Tagalog: 'masungitnapanahon', which means 'not friendly weather'.
BBL: KaNoli, could you tell us about Buklod Tao's projects?
KaNoli: Buklod Tao is a Community-Based Organisation (CBO) that aims to strengthen the capacities of the community in disaster risk reduction, preparedness and environmental conservation. We fabricate fibre glass rescue boats. In 1997 to 2011 we had only one design of rescue boat. But today, we have two designs – one small and one bigger. All these boats were used by the communities to rescue mothers, children, elderly people, pregnant mothers and even the sick during flooding events near the banks of the Nangka and Marikina Rivers. We are also upgrading our evacuation centre by installing cubicles for 89 evacuees inside our medium-rise building, but it is still far from ideal.
BBL: I heard Buklod Tao also does other things, such as sewing bags and making slippers, in order to raise funds to reduce poverty.
KaNoli: Our female members sew bags made of discarded tetra juice packs. Another product is our 'Coco Feet', slippers made of discarded coconut peat. We sell these but in a very limited scale. Of course we wish to increase the sales to help poverty alleviation in the community.
Buklod Tao Incorporated was founded in 1994 and has experienced both developments and drawbacks that helped to define its identity. It is supported by the International Disaster Volunteers (IDV) charity with the aim of proactive disaster-risk reduction. IDV is a volunteer-driven charity that works with communities worldwide in order to achieve sustainable recovery and build more resilient communities both before and after disaster. Nicole Paredes from BBLTranslation worked as a volunteer with IDV, supporting the members of Buklod Tao in different projects.
These projects are still ongoing. Help Buklod Tao and its members with their struggle by donating via the IDV website www.idvolunteers.org/donate.