July 4, 2018
Posted by:

BBLTranslation

Category:

Article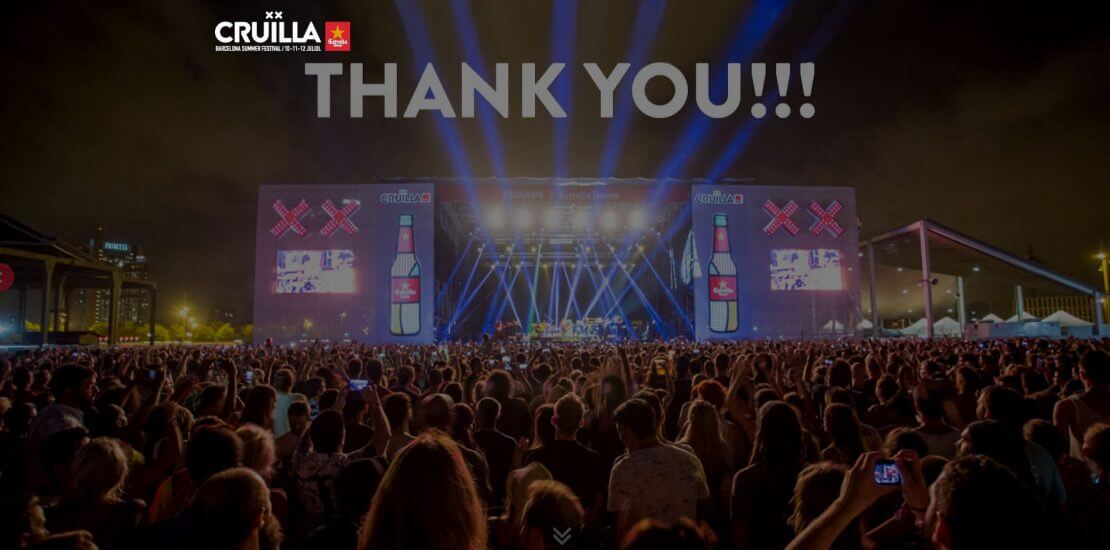 Every year, Cruïlla Barcelona surprises its countless spectators with not only their musical lineup, but also the many activities and attractions that they offer. With international artists, food, games, some humanitarian work, and much more, the festival attracts more and more fans from more and more countries in search of great entertainment and rich diversity.
Food Trucks
With at least 30 different food trucks present at the festival, fans were able to sample delicacies from all over the world. Cruïlla had two large concession areas set up at the venue with food trucks sprawled all around each. Walking down the row, within a matter of minutes one would pass an option for Mexican burritos, followed by Japanese sushi, maybe a few traditional Catalan dishes, delectable crepes and desserts, and even American burgers and hot dogs. There was certainly something for everyone available at the festival, and concertgoers had the option to dine like kings, with whatever type of food and drink they wanted. Walking through the Parc del Fòrum was like taking a stroll through the continents in a miniature, delightful way.
Artists
Cruïlla welcomed a ton of artists from all over the globe this year, making the festival one of the summer's most culturally diverse events in Barcelona. With artists from the United States (such as Kendrick Lamar, Emeli Sandé, Aloe Blacc, etc.), from the UK (Jamie Cullum), Jamaica (Damian Marley), France (Caravan Palace), Australia (Xavier Rudd and the United Nations), Cuba (Diana Fuentes), Israel (Asaf Avidan), and even with artists in the style of African (Osibisa) and Brazilian music (Zuco 103), and many, many more. Yet again, Cruïlla brought an incredible amount of diversity to the festival this year, which satisfied concertgoers from all walks of life.
Castellers
On Friday 10th, the Colla Jove, natives of Barcelona, put on an amazing performance with their spectacular Castellers. Men, women and children, trained in the art, were able to build huge human towers, almost two to three stories high. Traditionally, the Castellers perform their tower building during the main parts of larger festivals. The origins of this Catalan tradition of building human towers dates back to the 18th century. With the help of the Castellers, concertgoers from all across the world, as well as those from Spain itself were able to experience this fascinating spectacle and discover for themselves this Catalan tradition mixed with the new LED technology.
Beefeater In-Edit
With the addition of the Beefeater In-Edit portion of Cruïlla's events, concertgoers were able to get the full experience of the international music festival, to be enjoyed for years to come. In-Edit is an international web of film festivals that specializes in the production of music documentaries. With fans in Spain, Chile, Brazil, Germany, and many more just last year, it's no wonder that they partnered with Cruïlla Barcelona to document the experience. The Beefeater In-Edit screen let viewers see snippets from the concerts as well as playlists created by the artists, and special audio-visual content that made the Cruïlla Barcelona such a special event. Having the Beefeater In-Edit screens made it easy for concertgoers to get to know each of the bands from all across the globe as they performed their various styles of music. To see the actual music video documentaries for the artists, you can visit the In-Edit website at http://www.in-edit.org/webapp/detalle_agenda?evtId=1340
NGOs
Aside from all the fun and games, Cruïlla Barcelona should also be commended for their work with NGOs and nonprofits from all around the globe. In just one weekend, they were able to connect with Oxfam Intemón, Som nit, a Cruz Roja (Red Cross) project that focuses on preventing the consumption of drugs, Aldees Infantils, FETS (Ethical and Alternative Bank Association) and Surf Help. These organizations reach out to help those in need in Spain as well as other countries across the world. With the help of Cruïlla, these organizations can sponsor more activities, and reach more people. It's important to note that not only did Cruïlla make an effort to let concertgoers enjoy a multicultural show, but also to let concertgoers make an international difference as well.
From food to community service, Cruïlla always finds new ways to wow audiences of all ages and of all cultural backgrounds. BBLTranslation was pleased and proud to be able to help Cruïlla Barcelona with all of their English translations this past year, who knows, maybe next year they'll need more languages as more new spectators flock to the festival. We can't wait to see what Cruïlla has in store for the future!