May 17, 2018
Posted by:

BBLTranslation

Category:

Article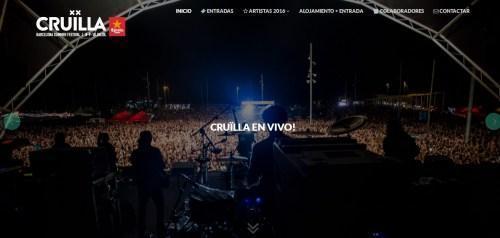 8, 9 and 10 July are the scheduled dates for this year's Festival Cruïlla Barcelona, one of the biggest summer music festivals around that last year welcomed 46,000 attendees. We spoke with festival director, Jordi Herreruela, to learn more about the complexity of organising an event of this magnitude, with visitors from various countries and speaking different languages. Furthermore, we take a closer look at the importance of quality translations for all channels of communication in use at the festival.
– What are the main difficulties encountered when organising a festival attended by international artists and spectators?
-The main challenge is to construct an ephemeral "city" to accommodate 25,000 people at any given time for many hours with all available services, and to juggle various great artists and their own typical styles and shows within the area of a single stage. The rest is pure pleasure, quality, community and music…lots of music.
– What do you consider vital elements in the communication strategy with the potential audience and the artists themselves?
– The two channels of communication are quite different but with a common element in regard to Cruïlla Barcelona: the strong character of the festival. Cruïlla is a reflection of Barcelona and its inhabitants, it is a meeting point, a place where everyone is welcome and accepted; it is unique and original.
– What role does multilingual communication play in the ability to reach the entire audience?
– Attendees come mainly from Barcelona, ​​its metropolitan area and Catalonia, but they do not necessarily speak Spanish or Catalan. Barcelona and Cruïlla welcome spectators that are coming from Barcelona but are of multiple nationalities, making multilingual communication very important.
– In this sense, how important is it to have all publicity materials, communications, posters, etc. in three languages: Spanish, Catalan and English?
– At communication level, we target specific segments of the audience and the first level of segmentation is always origin and consequently language. Websites, social networks, banners, online advertising and newsletters are all produced in these 3 languages. Printed materials are mainly in Catalan as Catalonia is our largest target base for offline advertising. In specific communications to Spanish or European citizens, these are issued in the Spanish or English languages.
– In the case of English, what is the role of quality translation in making sure the message is understood by an international audience?

– It brings us closer to the public and helps us to build a community. As well as distributing posters featuring the artists, we like to explain our festival, the non-musical activities and its salient features. For this reason we require professional translations to express the essence of the festival, not a literal redaction as nuances may then become lost in translation.
– Is translation into English also necessary to help invited artists fully comprehend the international nature of the festival?
– It is essential to have translations of internal documents, contracts, festival briefings, etc. And obviously in order to communicate with the public it is also useful to have publicity in English as well.