July 3, 2018
Posted by:

BBLTranslation

Category:

Article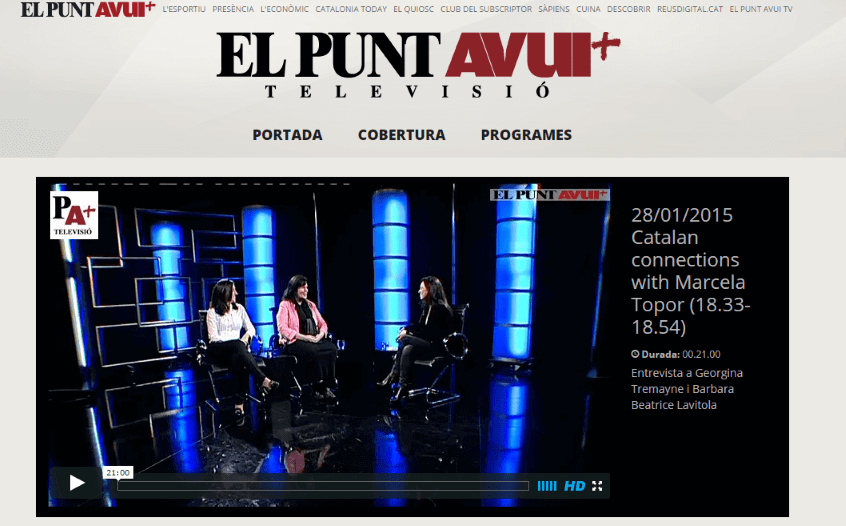 Barbara Beatrice Lavitola (Managing Director at BBLTranslation) and Georgina Tremayne (playwright at Tremayne Theatre Company) appeared on El Punt Avui Televisió's Catalan Connections on 28 January, 2015.
In this interview by Marcela Topor, Barbara Beatrice Lavitola and Georgina Tremayne share insights about how theatre in English can be enjoyed by the international company and the native Barcelona community.
BBLTranslation is a translation agency whose aim is to help companies and individuals break language barriers and it is proud of its ongoing collaboration with the Tremayne Theatre Company.
BBLTranslation creates glossaries of the common words and phrases used in the Tremayne Theatre's plays. The glossaries cover natural everyday language and slang expressions that often aren't included in standard English language text books. Catalan and Spanish translations are provided alongside the original English.
Thanks to the free glossaries, non-native English speaking audiences can enjoy the plays in English – and native English speakers can learn Catalan and Spanish all at the same time. Additionally, as an exciting next step, Alan Torres Dwyer Baranguirus has translated three of Georgina's plays into Catalan. "River Limpopo", the most recent of the three, premiere's in April in English in Barcelona – with Catalan performance dates to follow.
The collaboration once again proves BBLTranslation's attentiveness to market demands and further highlights their leadership in offering innovative solutions for new, continuously emerging needs ever since they became the first translation agency in Spain to offer a pioneering service: "sworn translations with digital PKCS#7/ CAdES signature" several years ago.
Barbara has given talks to young entrepreneurs at the Business Incubator at Tarragona Impulsa, the Tarragona Science and Technology Park. She has lectured in Entrepreneurship and Innovation, underlining the importance of human resources when working as a team. As a natural consequence of her style, she seeks out innovation and she champions breaking the status quo when a new approach is more beneficial.
After years in London and New York City's theatre scene, Tremayne Theatre offers Barcelona an innovative way to experience the English language culture through their original works for the theatre performed in both traditional theatre settings and non-traditional venues (such as The Tatami Room Japanese restaurant). With the plays complete within 90 minutes, that still leaves time for dinner.
BBLTranslation encourages local people to make the most of these local English language experiences delivered to their door – at a fraction of the cost of a trip abroad to find the same experience.
Break the ice, enjoy yourself, and, as Barbara says: "meet the guiri!" in your neighbourhood and take advantage of their culture.
Watch the video: http://www.elpuntavui.tv/video.html?view=video&video_id=118043674&utm_campaign=vimeo&utm_source=elpuntavui&utm_medium=tvgi